If you're a blogger or business owner, you probably know that Pinterest is a great way to grow your blog and business online. As a Pinterest manager, it's something I do for small business owners who don't have the time to, or don't want to, be spending lots of time in front of their computer every day, week or month working on Pinterest.
But, there are those of you out there who are very DIY-minded and don't mind learning a new skill, including Pinterest marketing and management. And you, my friend, are probably well-suited for learning. So, I decided to put together this handy guide to walk you through how to pick the best Pinterest course.
**Jul 2020 Edit**: Pinterest is not just good for bringing online traffic to bloggers. It's good as well for coaches, online course educators, YouTubers… You will see me refer to things like blogging and bloggers in this post because the original intent of this post was written to cater to blogger's needs, but this can apply to anyone using Pinterest.
Things to consider when choosing a Pinterest course:
Price – what are you willing to invest/pay?

Not all courses are created equally
Some only cover the basics for beginners
Some are specifically focussed on affiliates
Some are for advanced marketers or VAs

Level – is it a beginner or advanced training?

Access your current knowledge on Pinterest

Results/reviews – what do other students say?

Looking at reviews and testimonials is important

How often in a year is the course/ebook updated?

This is key. Also, having a

How engaged is the course educator with their students?

Some people care about this, and others don't as much. But I love when course educators take time to answer emails personally (instead of having someone else answer on their behalf) and host a Facebook group.

This is also a value-add.

Is the course live or go-at-your-own-pace?

Are you a passive or an active learner? If you need the motivation to be engaged with online school and the accountability, live classes are best for you. Find a course that has a coach that does group coaching calls/office hours.
If you are a DIY, independent, go-at-your-own-pace learner, you might not need a course that offers a Facebook group or accountability calls.
---
May 2020 Update…
Hi everyone, this blog post was previously quite brief (and to the point) but I wanted to pop in and add to this post by sharing some Pinterest courses that I recommend. Please note, that as a Pinterest virtual assistant/manager, I have not taken ALL of these, but I have taken some. That being said, I have a personal Pinterest coach and I also have received feedback from many trustworthy bloggers who've taken these courses, so I've added these to my recommendations below. As you read the rest of this post, you'll find recommendations for every skill level, with prices for the training ranging from as easily accessible as something FREE… to $47 to $300+.
---
Beginner wanting FREE tips?
You're new to blogging or business and don't have much content yet
You're new to using Pinterest and still need to learn the platform
Or you have a basic understanding of Pinterest but can't afford/invest in paid training at this time (no judgment — you can get to paid training when you can afford it)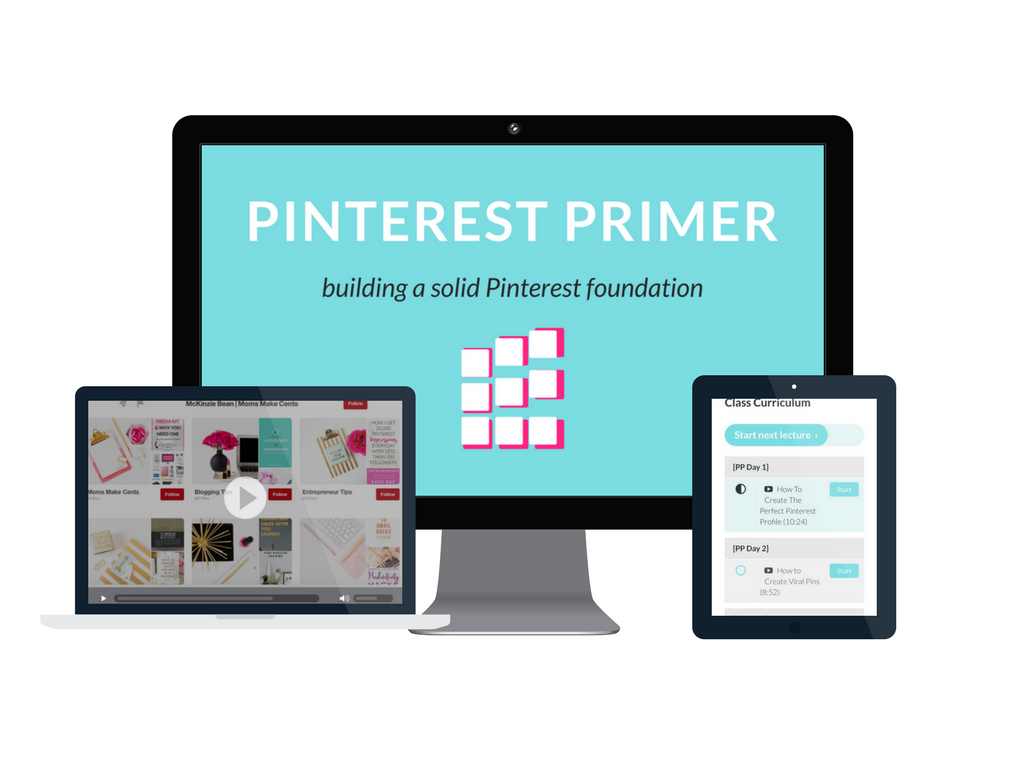 This is a great cost for beginners because it's 100% free! It walks you through the basics of what Pinterest can be used for, why it's great for a blogger or business owner, and how to get started using Pinterest. I am not sure how routinely updated it is, but I used it when I first started out as a blogger and found it very helpful. I am sure that the very basics of Pinterest remain the same, so it'll be a good primer to anyone who is absolutely brand-new.
Not technically an online course, but full of FREE audio training which you can listen to on-the-go. Created by Kate Ahl, of Simple Pin Media, this podcast is full of value, sharing tips on using Pinterest and everything she shares is rather up to date. If you don't have a big budget or you are simply hoping to brush up on your Pinterest knowledge, Kate drops a new episode weekly.
---
Intermediate Level: Mid-range budget
You've been blogging or in business for at least a few months to a year
You generate some income from your business, enough to invest in a course
You have at least 25 pieces of original content
Here are my recommendations! (Typically between the $250-300+ (USD) range)

The cost is a bit steeper ($349) than other courses, but it's worth every penny.
Updated twice a year, this course teaches you in 8 modules how to use Pinterest inside and out to maximize your blog traffic and profits online.
This course was last updated in Feb 2020.
---

Pinterest Powerhouse by Sarah Morgan covers what to pin and when to pin, and how to pin to grow your blog traffic with Pinterest. In this course, you'll learn about how to create pinnable content, how to build boards, turn your profile into a valuable resource, and build a strategy to generate blog traffic. It includes 10 modules and a 20-page workbook.
Spring 2020 sale: It normally costs $249, but you can get it for 30% off using the code: WTFCorona until April 1st, 2020.
---

Pinfinite Growth by blogpreneur Melyssa Griffin which covers how to use Pinterest to grow your email list and blog. In this online course, you'll learn valuable pinning strategies, how to grow your email list via Pinterest, how to get massive results with your traffic. Mel also offers bonuses such as how to use promoted pins, 3 months of Tailwind (new accounts only), and a private Facebook group for students. I haven't taken this personally, but I have taken her other course, The Profitable Creator, and I loved it. So I am sure that the teachings here are also solid!
---
Professional Level: Courses For Pinterest Managers and Pinterest VAs
These courses I recommend to a Pinterest marketer or virtual assistant
You'll learn things like ads management and the latest Pinterest practices
These courses are best if you use Pinterest professionally
Or any business owner who wants to invest more into their Pinterest

Via advertisements and promoted pins
In this course, you'll learn about how to promote your posts via Pinterest ads. This will help you find qualified leads and grow your revenue and lead people to your sales funnels.
Investment: $697, with a helpful payment plan of $247 for 3 months
---

This course is great for any Virtual Assistant or Pinterest Manager who wants to learn Pinterest and become a better Pinterest manager for their clients. Kathryn's course re-opens in every Spring/Summer between April and June at $899 USD ($799 fast-action, first 48 hours, with 3 monthly payments of $320). Kathryn will also have options for group coaching and private mentorship at higher-priced tiers, but this post will focus on courses.
---
COURSES FOR AFFILIATE MARKETING/SELLING
Ideal for bloggers who want to promote affiliate products
Ideal for podcasters and YouTubers or influencers online

If you sell/promote products or services regularly

You can use this EVEN if you don't have a blog or website

Interested in growing affiliate sales through Pinterest, even if you don't have a blog? You absolutely can. Using the tips from this eBook, you can learn how to do that!
It also comes with 3 bonuses, as of 2020:
*BONUS* A 45-minute workshop on how to increase your traffic, subscribers & sales
*BONUS* The ultimate resource for over 1000+ Pinterest group boards in all niche's
*BONUS* Plus, you'll get my killer ebook $10k in 12 months (Value: $25)
Technically an eBook, not a course, but it's comprehensive and covers the fundamentals of nailing affiliate strategy on Pinterest. The price is right… $47 🙂
---
Have you taken any of these courses? What do you think? Are there any more worth adding?